>> Check out our Last Minute Deals
Magical Mexico - Self-Drive Tour
9 locations in 15 days: Mexico-City, Oaxaca, Tehuantepec, San Cristóbal de las Casas, Palenque, Campeche, Mérida, Valladolid, Playa del Carmen
14 nights in hotels with a 3-4* standard, incl. breakfast
Rental car in desired category
many optional activities possible, for example, Teotihuacán, Puebla de los Ángeles, Monte Albán, Hierve el Agua, Sumidero Canyon, Agua Azul, Uxmal, Celestún, Chichén Itzá etc.
for 2 people from £ 810 p.p.
Do you prefer to travel on your own without a big group? Would you like to organise your days as you wish? Then our 15-day rental car tour from Mexico City to the Riviera Maya is the best opportunity to explore the country at your own pace. We will book your hotels and the rental car then the rest of the trip you can plan just like you want to. If you are more interested in culture, history and traditions you can visit the many archeological sites along the way to see the fascinating ancient Mayan ruins. Do you love nature? Then see the beautiful waterfalls of Agua Azul, Sumidero Canyon or Celestun National Park. More information you can find in our detailed itinerary.

---
Route of the self-drive tour "Magical Mexico"
Discover the most important sites in Mexico in 15 days. You start your journey in the capital and you will discover the colourful Oaxaca, the beautiful colonial town of San Cristobal de las Casas, the ruins of Palenque, Campeche and the world famous archeological site of Chichen Itza. At the end of your tour you will arrive at the Caribbean Coast with beautiful beaches. Be inspired from the beauty and history of the Central American country and make it your own personal tour.
These highlights are waiting for you on this tour
Capital of the Aztecs "Tenochtitlan"
Impressive "Centro histórico"
Anthropological National museum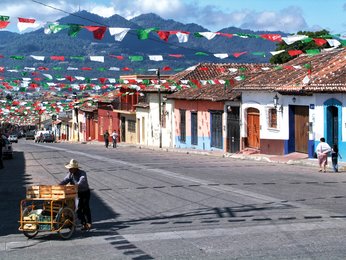 Known by its native Tzotzil name Jovel
H

eart of the indigenous areas in Mexico

Surrounded by traditional Mayan Villages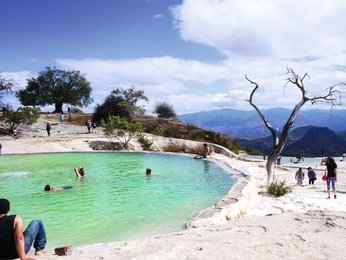 Impressive stone formations
water pools are suitable for bathing
"fossilised waterfalls"
---
14 nights in 3-4* hotels, incl. breakfast
12 days rental car; pick-up in Mexico-City, drop off at airport Cancún
no kilometer restriction
insurance without cost-split
Flight to / from Mexico
optional excursions/activities
tips and gratuities
Travel insurance
Transfer from airport to accommodation: booking available on request
Entry and exit, necessary vaccinations and general information about Mexico
---
Prices and Dates for the self-drive tour "Magical Mexico"
With click on "contact" you can send us a non-binding request


Prices are valid until 31.10.2020 (excluding dates on Christmas, New Year's and Easter)
You need to pay security deposit on the spot, which you will get back if you return the car undamaged
See more information in our rental car regulations
You haven't decided yet? These might also interest you...
If you have any further questions, don't hesitate to contact us. Leave us a message.