>> Check out our Last Minute Deals
Chile - Climatic Diversity From Desert to Glaciers
Stretching nearly 4,300 kilometers from its most northern to its most southern point, Chile encompasses a myriad of climates and regions. Some of its diverse scenery includes volcanoes, valleys, glaciers, fjords and even forests and deserts; Chile has it all. Whichever destination you decide on, your adventure in Chile will be full of a mixture of experiences and sights.
Today the Atacama-Desert in the North-East of the country is a highlight of every Chile trip. The UNESCO world heritage cities Valparaíso and Chiloé are worth a visit. The most famous nationalpark in Chile is the Nationalpark Torres del Paine. To get to see the most of it, you should go for a serveral-days hike and experience waterfalls, glaciers, lakes, and mountians.
Our travel packages in Chile are consisting of 2-4 nights, including breakfast and different activities in one location. Combine serveral packages to design your very own journey through this amazing country.
Our Travel Packages in Chile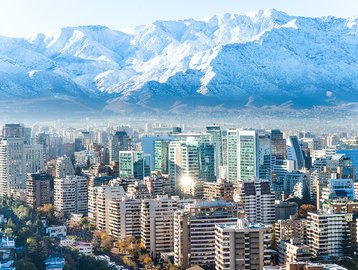 3 Days / 2 Nights Santiago de Chile
Chile's bustling capital
Mix of modern and traditional sights
University city
More »
3 Days/2 Nights San Pedro de Atacama
Most arid desert on earth
Vast sand dunes and starry skies
Valle de la Luna, "moon valley"
More »
3 Days / 2 Nights Puerto Varas
View of the Osorno Volcano
Day trip to Chiloé Island
Eat a traditional meal with locals
More »
5 Days / 4 Nights Torres del Paine
Tower-like rock formations
Camping at the National Park
Glaciers, fjords and turquoise lakes
More »
You already decided for your favorite packages or want to get some help? Just leave a request and we will get back to you as soon as possible.