>> Check out our Last Minute Deals
Cuba Excursions, Courses & Trips with SC Travel Adventures
Do you already have a tripped planned in Cuba and would like to do something different or plan a self-organized individual journey? Then you've come to the right place! Here you'll find all of our excursions, trips and courses that will greatly contribute to your holiday. Take a trip to the unspoilt nature in Las Terrazas or Havana, or relax on a cruise on the Canimar River. In addition, we also offer Havana excursions within the capital, such as a tour from the backseat of a classic car or a guided tour to the legendary Rum Museum. Finally, follow in the footsteps of Hemingway, enjoying a cool daiquiri in the Floridita Bar.
Choose the excursions and activities you like the most and let us no in a non-binding inquiry. You can also add services like rental cars or hotel. We will send you an individual offer.
Havana Excursions, Courses and Trips:
How to make your Cuba stay unforgettable
The Caribbean Sea and the Golf of Mexico are surounding Cuba with an underwater world full of different colors and species. Where else could you combine a beachstay with a diving course better than here? But don't forget to discover the country away from the beaches. Cuba will surprise you with an unique culture, fascinating history and delicious food. With our certified guides you can get to know the most beautiful cities of Cuba and get behind the scenes of the old Havana. Your guide will help you understand this amazing country. In which historical places were Fidel Castro and Che Guevara planning the revolution? Which stores you should avoid? Where do you get original cigars for a good price instead of cheap and faked cigars? Our guides are all Cuban locals. They studied English and trained to become a guide - who else could show you the country better? A cultural highlight in the evening are the famous dancing shows, known to be some of the bests in the world. Yo want to learn to dance for you self? Try out our Salsa Dancing Course.
Most popular in Havana: a City Tour in Old Havana and a Classic Car tour in the modern part, the Rum- and Tobacco-Tour and the famous Tropicana Show.
There's also much to discover outside of Havana. Take part in a day excursion to Cuba's idyllic green nature, bath in waterfalls and natural pools, stroll through the endless tobacco fields, take a Jeep safari or dive into Cuban history in colonial towns like Trinidad or Cienfuegos.
Most popular outside of Havana: Excursion to the Viñales-Valley and to Las Terrazas, from Santiago de Cuba to the Castillo del Morro and to the El Cobre or go on a City Tour in Trinidad.
You found an excursion that you like? Send us an inquiry!
---
Cuba Excursions from Santiago de Cuba
There are exciting trips to explore in the East of the country as well! Let our well-trained tour guides guide you through Santiago de Cuba's streets or take a jeep tour through the east of Cuba and climb the world's largest monolith!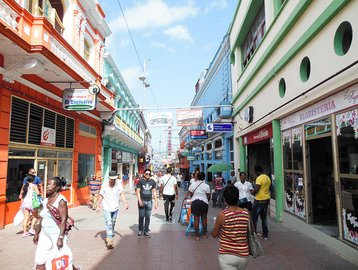 Duration: approx. 5 h
The second largest city in Cuba
Nestled in mountains, bays and beaches
Bookable from Holguin or standalone
More »
Duration: approx. 10 h
Excursion from Santiago de Cuba
The largest monolith worldwide
Coffee plantation and botanical garden
More »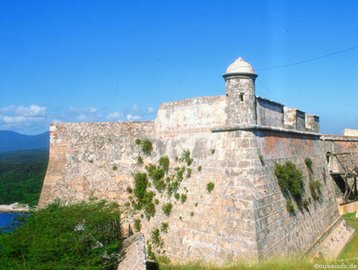 Duration: approx. 5 h
Excursion from Santiago de cuba
Coastal castle
Holy pilgrimage in El Cobre
More »
---
Cuba Excursions from Holguín
If you'll be in the east of Cuba and find yourself in Holguin, here are fun excursions to add to your trip! Take in Cuba's surroundings with one of the below options. For example, a Cuba Jeep tour to Bariay Bay or a trip to Santiago de Cuba. Enjoy a magnificent view of the pilgrimage church in El Cobre and explore the secret capital of Cuba, Santiago de Cuba. The options are so diverse!
Duration: approx. 11 h
Excursion from Holguín
The most sacred pilgrimage of the Cubans
UNESCO World Heritage Site
More »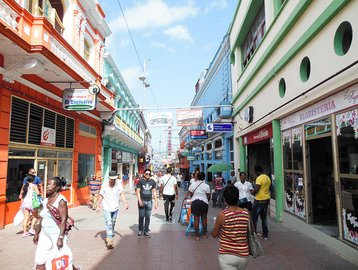 Duration: approx. 5 h
The second largest city in Cuba
Nestled in mountains, bays and beaches
Bookable from Holguin or standalone
More »
Duration: approx. 8 h
Excursion from Holguín
Drive along breathtaking coasts
Learn about the native lifestyle
More »
---
Cuba Excursions from Trinidad and Cienfuegos
The main attraction of any Cuba tour is a trip to Trinidad! As you walk through the colonial streets, our guide will lead you on this Cuba trip past pastel colored buildings to one of the most beautiful places on the Caribbean island!
If you pass Cienfuegos during your Cuba journey, you should definitely visit the waterfall El Nicho!
Duration: approx. 2 h
Picturesque 18th C. townscape
Plaza Mayor
Museums, a palace and more
More »
Duration: approx. 5 h
Excursion from Cienfuegos
Hike in the Sierra Escambray
Bathing underneath the waterfall
More »