>> Check out our Last Minute Deals
Bolivia - Dreamlike Landscape are Reality
This colorful country located on the world famous Lake Titicaca, combines picturesque nature, rich history, and vibrant Once part of the Incan empire, Bolivia has always been rich in culture. Today, 36 different languages are spoken between natives and immigrants of the land. From its highlands to deep valleys, along with a juxtaposition of modern and ancient traditions, Bolivia offers a broad mix of myths, customs, dances and styles.
Our travel packages are consisting of 2-3 nights and different activities in one location and can be combined or extended by other services. Of course, you can combine the travel packages of different countries, if you are planning a bigger tour in South America. We are happy to help you with your plannings!
1. Choose your favorite travel packages
e.g. La Paz (3d.) + Sucre (3d.) + Uyuni (4d.)
= 10 day Bolivia Tour
2. Extra Service
e.g. extra nights, activities, hotel upgrade
3. Send a non-binding regest & get an offer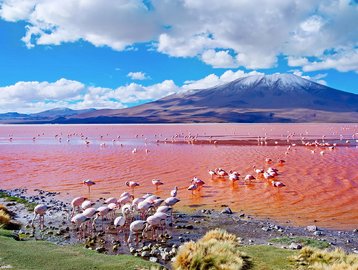 4 Days / 3 Nights Salar de Uyuni
Picturesque mountain landscapes
salt flats, geysers and fumeroles
Shallow salt lake, Laguna Colorada
More »
3 Days / 2 Nights Potosí
Famous Silver City
UNESCO World Heritage Site
Optional: Mine Tour
More »
3 Days / 2 Nights La Paz
Cultural Bolivia
Tiahuanaco Ruins
Traditional Witches Market
More »
3 Days / 2 Nights Sucre
Colonial city with warm atmosphere
Famous for its chocolate
Optional: Parasailing
More »
You already decided for your favorite packages or want to get some help? Just leave a request and we will get back to you as soon as possible.