>> Check out our Last Minute Deals
Panama - A Paradise in Central America
Panama may be small, but it's packed with plenty of opportunities for adventure. This beautiful, yet modest, tropical country has become a fascinating and charming tourist destination. Here you'll find vibrant multicultural communities, exquisite landscapes, and pristine beaches. Panama is the ideal destination for thrill seekers, nature enthusiasts and those looking for a relaxing beach holiday.
On our tour Heart of Central America you can combine the two fascinating countries Costa Rica and Panama. Prepare youself for you tour with our Travel Information for Panama. You have further questions? Leave us a message.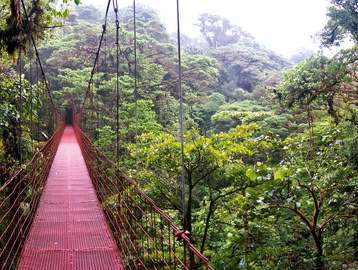 16 Days Costa Rica and Panama
Cultural excursions
Pacific Ocean, Caribbean Sea
Volcanoes, beaches, parks
More »
Panama and Costa Rica on one Tour
Panama - the country that is connection North and South America - is a fascinating country to travel. Many people think immediatly in the famous Panama Canal, but the country has much more to offer. Lush green jungles, a colorful animal and plant world and beautiful islands close to the mainland of Panama. Enjoy the Caribbean flair of Bocas del Toro and admire the white-sandy beaches it has to offer. Hike through Boquete and get a glance the Quetzal bird, that only lives in Central America.
Costa Rica, the "rich coast", it indeed one of the richiest countries in the world - at least in biological diversity. Flora and fauna of the country is exotic and stunning: colorful toucans, sloths, monkey, hummingbirds, turtles, dolphins and thousands of insects have their home in Costa Rica. The landscape is breathtaking as well: idyllic beaches, lush green rainforests and majestic volcanos are only a few sights you get in Costa Rica. The country is also famous for the advanced level of eco-tourism and nature protection. On a tour through this country you can dive into worlds of nautre. Take a bath in hot springs, expericens adventures in canopy, surfing or raftin, hike in the cloud forests or enjoy the beautiful weather on one of the gorgous beaches!