>> Check out our Last Minute Deals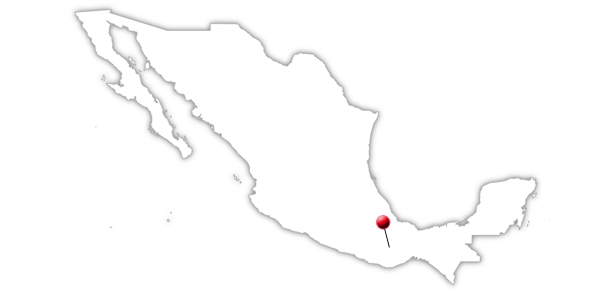 Hierve el Agua means "the water is boiling" - but not because the water is hot, but because water is bubbling out of the stones due to leaking carbon dioxid. The breathtaking attraction of this place are the natural, intertwined stone formations, that look like waterfalls crashing down the valley. Even you can't find real waterfalls here, there are pools, filled with water, in which you can take a bath and enjoy the view.
History of Hierve el Agua
The leaking mineral water is forming the surroundings. Calcium is forming drop after drop the spectactular stone formations. This process is similar to the stalactites in caves. Due to this process two stony waterfalls were formed, that are of a beautiful white color. The "waterfalls" are between 12 and 30m high.
The surrounding area is very fertile and used for agriculture for many thousand years. The mineral water was also used for the agricultre but the canals, that the water was flowing through, are also petrified now.
What to see and do in Hierve el Agua
About 70km from Oaxaca, close to the excavation Mitla you can find Hierve el Agua. 50 to 90m abouve the valleys of San Lorenzo Albarradas, two stone cliffs are looming into the landscape.
These cliffes are called Cascadas Pétreas, which means "petrified waterfalls". The first waterfall is the smaller one. The Cascada Chica is the waterfall, that you can reach easiest. On the platform you can find four springs and some natural pools. In these you can take a bath and enjoy the beautiful nature. Old legends say those springs have healing powers.
While the waterfall is easily reachable, the Cascada Grande will reward you with an incredible view over the valleys an the areas nearby. There are also numerous trails. Combine your visit with a little hike.
From the parking space stairs are lieading up to the foot of the first waterfall. The ascent takes about 40 minutes. Try to get there at sunrise, you'll be rewarded with pure beauty.
Hierve el Agua means "boiling water" but the temperatures are refreshing 22-25 °C.
More than 2500 years ago the Zapotecs built a complex irrigation system therefore scientist assumed, that Hierve el Agua was a holy site for the Zapotecs.
An excursion with a car is the most comfortable one because you can use the time as you want. If you don't have a rental car, you can also book an excursion from Oaxaca.
More information about the country and the people of Mexico you can find here.
Tours to experience this highlight