Crossing Indonesia - Group Tour
20 days full of highlights: Medan, Bohorok, Brastagi, Island Samosir, tradtional Karo-Batak village, palace Simalungun, waterfall Si Psio Piso, Toba-Lake, sulfur springs near Sipholon, traditional Adat village, Sipirok, Bukittinggi, Yogyakarta, Prambanan temples, Solo, Tawangmanggu, Malang, Bromo-Tengger-Semeru-Nationalpark, Village Cemoro Lawang, Kalibaru, Bali/Ubud, Sanur
19 nights in hotels with a 2-3* standar, including breakfast, 2 lunches and 1 dinner
English-speaking guide
Many optional activities and excursions, for example visits of the temples etc.
4-24 participants on group tours
from £ 1,233

Indonesia is full of natural wonders including impressive volcanoes, picturesque rice paddies, tropical jungles, crystal clear waters, sandy palm-fringed beaches, roaring waterfalls, and more! You can see orangutans in their natural habitat, visit the remains of ancient dynasties like the Samosir in picturesque Lake Toba, see what remains from the period of Dutch colonialism, discover urban life in Jakarta, visit some of the many religious shrines, and generally get a sense for the fascinating and diverse cultures on the islands! Visit Indonesia for the adventure of a lifetime!


---
These highlights are waiting for you on this tour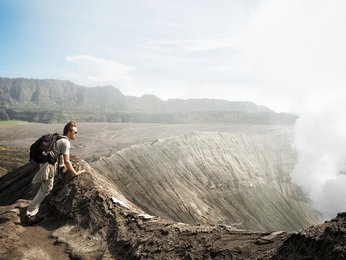 Volcano Merapi
Formar dutch fort
Tower Jam Gadang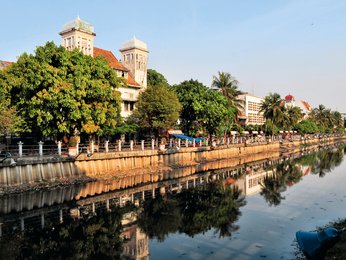 Powerhouse in the 13th century
Central market
Flower and bird market
---
19 nights in hotels with a 2-3* standard, incl. breakfast
Flight Padang - Jakarta
Train Jakarta - Yogyakarta
Boat transfer Toba-Lake and Java-Bali
All transfers as described
Entry fee Bromo and Sumatra
Excursions as described
English-speaking guide
International flights to/from Indonesia
Airport tax for domestic flight
Tips and gratuities
Optional excursions and entrance fees
Departure tax
Travel insurance
Transfer to/from airport
If the tour starts with less than 8 participants you will have two different guides. One at Sumatra and the other at Java and Bali
The accommodation is organized in double rooms. If you are travelling alone, you can share a room with another person of the same sex. If you wish to stay in a single room, please let us know on your inquiry.
For your arrival to Indonesia at the international airports Jakarta, Denpasar/Bali, Medan, Surabaya and Batam no visa is required. It's still possible that you get a Visa on arrival.
We recommend hepatitis A and B and rabies vaccination. For more information you can read our general travel information about Indonesia.
---
Dates and Prices for the group tour "Crossing Indonesia"
| Dates | Duration | Price pp in DBL | |
| --- | --- | --- | --- |
| 15.02.2020 - 05.03.2020 Solo Traveler Tour* (age 25-35) | 20 Days | £ 1,233 | Contact |
| 15.02.2020 - 05.03.2020 | 20 Days | £ 1,233 | Contact |
| 18.04.2020 - 07.05.2020 Solo Traveler Tour* (age 21-45) | 20 Days | £ 1,233 | Contact |
| 18.07.2020 - 06.08.2020 Solo Traveler Tour* (age 21-45) | 20 Days | £ 1,233 | Contact |
| 08.08.2020 - 27.08.2020 Solo Traveler Tour* (age 21-65) | 20 Days | £ 1,233 | Contact |
| 08.08.2020 - 27.08.2020 | 20 Days | £ 1,233 | Contact |
| 05.09.2020 - 24.09.2020 Solo Traveler Tour* (age 21-45) | 20 Days | £ 1,233 | Contact |
| 10.10.2020 - 29.10.2020 | 20 Days | £ 1,233 | Contact |
| 10.10.2020 - 29.10.2020 Solo Traveler Tour* (age 40-65) | 20 Days | £ 1,233 | Contact |
| 07.11.2020 - 26.11.2020 | 20 Days | £ 1,233 | Contact |
| 07.11.2020 - 26.11.2020 Solo Traveler Tour* (age 25-35) | 20 Days | £ 1,233 | Contact |
| 19.12.2020 - 07.01.2021 | 20 Days | £ 1,233 | Contact |
Single-room supplement: £386 per person
*here you can find more information about Solo Traveler Tours and Festival Tours