Viazul Bustour Cuba Completa
8 Highlights in 18 Days: Havana, Viñales, Cienfuegos, Trinidad, Camagüey, Bayamo, Santiago de Cuba, Holguin
17 nights in Casa Particulares
included activities, for example Classic Car Tour in Havana, excursion to the Viñales Valley and city tour in Trinidad and Santiago de Cuba
travelling with the Viazul bus and enough time in the different locations
for 2 people from $ 840 CAD p.p.
Experience the authentic Cuba during this 18-day Cuba roundtrip. With the Cuban Viazul Bus you will discover the whole Caribbean island from west to east. The adventage: You will get in contact with other travellers and can exchange all your experiences during the bus rides. You will stay in private accommodation (Casas Particulares) and get to know the authentic Cuban lifestyle. If you would like to, we can add more excursions for you. More information you can find in the detailed itinerary.
---
Route of the Viazul Tour "Cuba Completa"
On this roundtrip you discover all highlights in 18 days! Get to know the UNESCO world heritage sights Havana, Trinidad and Camagüey and get inspired by the beautiful landscape of the Viñales-Valley. In Bayamo and Santiago de Cuba you can follow the tracks of the revolution. In your accommodations, the Casas Particulares, you can also add meals spontaneously. The owners will be happy to offer you a nice breakfast or dinner.
These Highlights are waiting for you: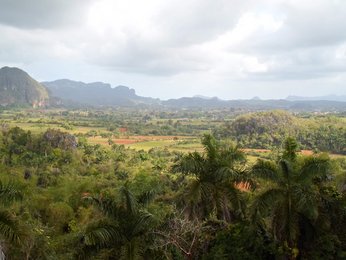 One of the most beautiful landscapes in Cuba
Famous tobacco region
Impressive "Mogotes"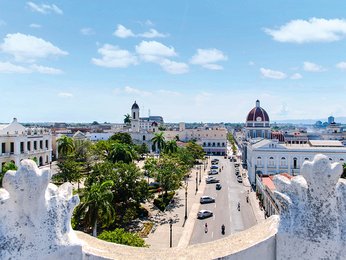 "Pearl of the South"
architectural significant city centre
Fortress "Castillo de Jagua"
secret capital of Cuba
City of music and dance
Fortress El Morro
---
17 nights in Casas Particulares* without board
(can be booked easily on location)
all described transfers in the Viazul Bus (during roundtrip)
Classic Car Tour (60 minutes)
incl. driver and English-speaking guide
guided hike or riding tour in the Viñales-Valley
with English-speaking guide
guided city tours in Trindad and Santiago de Cuba
with English-speaking guide
International flight to / from Cuba
Transfer Airport Havana - Casa Particular Havana
Transfer Casa Particular Holguin - Airport Holguin
Price per transfer: $ 40 CAD (1-3 pax); $ 52 CAD (4-6 pax)
Cuba Entry Card (tourist Visa): $ 30 CAD
optional excursions / activities
tips and gratuities
travel insurance
*Casas Particulares are private houses of Cuban locals, which are offering rooms for tourists. On request the owners will prepare you breakfast (5-6 CUC) and most of the times also lunch and dinner (10-12 CUC). Just let them know at your arrival.
Please keep in mind, that due to weather conditions or bad street conditions the departure times of the buses might change
If you would like to include more services, for example beach extensions or additional excursions, let us know on your request. We are happy to send you an offer.
We guarantee group departures from the first participant onwards.
If you want to take a domestic flight during your stay in Cuba, we are happy to organize this for you.
More information about visa, vaccinations and the country you can find here.
---
With click on "Contact" you can request an individual offer incl. extra services (e.g. transfers)
Infos:
Prices are valid until 31.10.2019
Not sure yet? This might be interesting for you...
If you have any further questions, don't hesitate to contact us. Leave us a message.