>> Check out our Last Minute Deals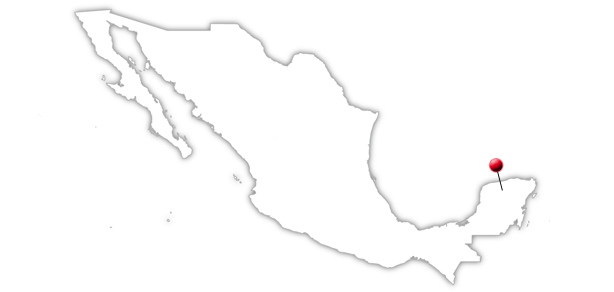 Izamal is also knows as "ciudad amarilla", which means "yellow city". The city has 16.000 inhabitants and is one of the most colorful in the world. The reason for the yellow-white paint of the houses is the visit of the popular pope Johannes Paul II in 1993. Yellow and white are the colors of the flag of the Vatican.
Izamal is influenced by the indigenous Maya culture, the Spanish conquest and the modern Mexico, which led to the description "City of the three cultures". The colonial town, that already exists for 2000 years was once an important religious center for the Maya. You can find more or less cleared temple ruins all over the city. From about 80 discovered buildings, the pyramid Kinich Kak Mo is the most relevant for tourists. With a length of 200m and a height of 36m, it is not only the highest temple of Izamal, but also has a similar extent than the sun-pyramid in Teotihuacán, which has a length of 225m.
The most important monument of the Spanish conquest is the Franciscan convent "Convento de San Antonio de Padua". At the location the most important Maya ruin of Izamal "Popul Chac" was destroyed. The ruins were used as the basis for the convent in 1553. This building, which was finished in 1562, has the second largest atrium in the world.
The first pope, that acknowledged the illegitimacy and violence of the proselytization of the indigenous and the destruction of their culture was Pope Johannes Paul II. He apoligized publicly, which is the reason, he is much valued in Mexico and especially in Izamal.
Location and surroundings of Izamal
Izamal is located in the middle of the way between Mérida and the Maya site Chichén Itzá. You can either go on a day trip from the colonial town Mérida or stay in the city and enjoy the colonial flair of Izamal. The restored Haciendas in the surroundings of Izamal still have their traditional Mexican style and are equipped with beautiful gardens and pools, that will invite you for a Siesta.
More information about the country and the people of Mexico you can find here.
Tours to experience this highlight