What to expect...
Hola! You'll quickly feel the positive energy from the warm welcome you'll receive in Cusco. Adding to that positive energy is the busy nightlife, set in the backdrop of an ancient past. Cusco is home to the Quechua people, who are indigenous to South America, and according to them, Cusco was the first inhabited place on Earth! Whether you believe that or not, one thing is true: Cusco was the Incan Capital in 1532. To prove the tremendous architectual skill of the Incas, many of the ruins still remain in Cusco today, despite earthquakes hitting the area and the invasion of Spain. Let the impressive cultural experiences trickle into the evening with live music in a cozy bar, or by having a wilder night dancing at fiestas. In Cusco, anything is possible.
Today you'll be arriving in Cusco, the former capital of the Incas! Located at 3,400 metres above sea level in a high valley of the Andes, there is a lot to discover! We'll guide you through the old walls of this fascinating city, seeing the Santo Domingo monastery and the sacred Incan sun temple, Koricancha, among with mortar-masonry from the Spanish Inquisition. Be amazed at all the various architecture as you think of the work involved to carry these stones up this mountain at a time before the invention of the wheel! Visit the Incan fortress, Sacsayhuamán, which protected and overlooks the town below. All this and more awaits you on your tour.
Duration of tour: about 3 hours (beginning early afternoon)

Hotel El Puma* (Classic) / Casa Andina Private Collection* (Comfort)
*or similar
Today you'll be off to three different historical sites: Tambomachay, Puca Pucara and Quenqo. First, you'll visit Tambomachay, baths of the Incas. Here you'll see where canals and waterfalls ran through the various thermal baths and fountains. Then, you're on to Puca Pucara, the "Red Fort." With large walls, staircases and terraces, you'll marvel at the scenery and easily see how this was once an active military site. Finally, you'll visit the impressive Qenqo temple, where the Incas held religious ceremonies. Explore the winding labyrinth of narrow crevices, staircases and mysterious caves. As these sites will only take you about 3.5 hours to visit, the rest of the day is free to use at your disposal. We have a few optional offers which would fit perfectly into your schedule here, so be sure to check them out!

Hotel El Puma* (Classic) / Casa Andina Private Collection* (Comfort)

Breakfast
*or similar
2 nights in hotels with breakfast
Transfer from the airport to the hotel
City tour including English-speaking guide, transfer and entrance fees
Visit Sacsayhuaman, Tambomachay, Puca Pucara und Qenqo incl. English-speaking guide, transfer and entrance fees
Other meals and drinks (2 lunches, 2 dinners)
Tips and gratuities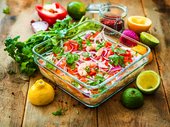 Learn the history and secrets of peruvian cuisine. Prepare two of the most famous dishes from Peru: ceviche and lomo saltado - made in the Andes with alpaca meat*. Additionally, our chefs will give you many other dishes to try. Make sure you come hungry, because this offer is dedicated to food and drink!
Price on request
incl. English speaking chef, a visit to a local market in Cuzco
an aperitif, an appetizer, an entree, a Pisco Sour, a Chilcano de Pisco, and unlimited non-alcoholic beverages
Duration: about 4 hours, starts at 2pm
*Vegetarian option available!
This different kind of tour takes you through the streets of Cusco in search of the best Peruvian food! An English-speaking chef will explore the city with you as you try sweet and salty dishes, sold at roadside stalls. Learn more about the culinary specialties and history and stories of Peru. Three of the best restaurants in town are a part of this offer, so don't miss this palate-pleasing experience!
Price on request
incl. tasting in three of the best Cuzco restaurants tasting tamales, Picarones, Anticuchos (cow heart) at selected locations on the road
Minimum: 2 people
Duration: 2 hours (6pm-8pm)