What to expect...
As an easy stop from Rio de Janeiro or São Paulo, Paraty should not be missed. This small town directly on the sea offers a charming old town and a local flair. If you are a fan of Caipirinha cocktails, a visit to the Cachaça distillery should be on your list. A sailing trip on the second day will round off your stay, showing you the many small islands just offshore Paraty. Come see all that Paraty has to offer!
After arriving from Rio de Janeiro or Sao Paulo, you'll check in to your hotel and will have this first day free. We recommend heading out and exploring this UNESCO World Heritage Site with its old churches and town center. Stroll along the cobblestone streets and see the colorful, well-preserved buildings from the Portuguese colonial era. We would also recommend the cachaça distillery, where you can learn more about the production of the main ingredient of a Caipirinha, Brazil's most beloved cocktail. For a nice dinner, you can try a Feijoada, a stew of beans with beef and pork.

Pousada Marendaz*
*or similar
After a typical Brazilian breakfast with fresh juices, cakes and exotic fruits, you will be transferred to the port of Paraty. From there, you'll start your unforgettable day! A small sailing boat will take you along the coast of a few of the 60 islands in the region. Spend the day at the shore. Swim in the crystal clear waters, sunbathe on white beaches and discover the incomparable nature of the Brazilian coast. Live in the moment, but be sure to listen out for the ship's horn, signaling when to board and head back to Paraty. From there, the evening is yours to enjoy as you please.

Pousada Marendaz*

Breakfast
*or similar
Today will have you asking, where to next? Should you decide to stay a few days longer in Paraty, we'll be happy to book additional nights for you. Though, if you would rather visit nearby destinations, we have several great options in store. Whatever your wish, we at SC Travel Adventures can make it happen. And no matter the place, we wish you a pleasant journey!

Breakfast
2 nights at hotels with breakfast
Boat trip
Other meals and drinks (1 lunch, 2 dinners)
Tips and Gratuities
Prices are vaild until 31.10.2020.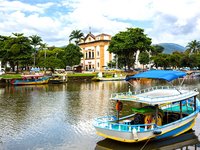 The Paraty architecture stands out because of its expressive character, attention to detail and originality. Uneven, cobblestone streets and colorful decorated facades takes you back to the colonial era. Marvel at the fascinating churches and museums, the Casa de la Cultura, old mansions and studios. Through this guided tour, learn the history and legends of this overwhelming city.
Price on request
Includes: English speaking guide, city map
Not Included: admissions
Duration: 2 hours
Explore the unique nature of Paraty on an exciting jeep tour to the Serra da Bocaina National Park! Ride through the Mata Atlántica tropical rain forest, which houses one of the highest biodiversity of the world. See the colorful birds, admire stunning waterfalls like Pedra Branca and bathe in the crystal clear pools. Watch as the locals tread over the slippery stones of the Cascada de Toboga waterfalls, or do it alongside of them! Marvel at the craftsmanship of rum production in two distilleries and learn all about how the famous cassava, similar to potatoes, is processed at the Casa de Farinha de Mandioca. Our tip for an excellent lunch: the Villa Verde restaurant, located at the Perenque-Açu riverfront.
Price on request
Included: jeep ride, tickets & water
Not Included: English speaking guide (bookable), meals (lunch)
Duration: about 6 hours