What to expect...
A stay in Salta is doubly worthwhile. Located in the northwest of Argentina, this city is well known for its Spanish colonial architecture, earning its nickname "La Linda" (the Beautiful). At the same time, trips to Cafayate, the heart of the Calchaquíes Valleys, are easily accessible from here, whose famous variety of white wine, Torrontés, can be enjoyed. This region at the Andes foothills is a unique and natural spectacle, from mountains to valleys to gorges and colorful sandstone formations.
Today you will arrive in Salta and will be taken to your hotel from the airport or bus stop by one of our staff. After arriving at your hotel, you'll have the option to rest there, or take a short stroll through "La Linda" and see some attractions. We recommend stopping by the Plaza Principal, the Cabildo, the cathedral and the Museo de alta Montaña if you have time. You can also ride the gondela, Teleférico Cerro, up to San Bernardo where you'll have a panoramic view of Salta. For dinner, a Calle Balcarce is a great idea as they serve traditional cuisine: empanadas, salteñas, and vino Torrontes (sweet white wine spritzer).

Hotel La Candelaria*
*or similar
After enjoying a typical Argentinean breakfast, you will be met by your guide at the hotel for your day trip to Cafayate, a small province southwest of Salta. First, ride along the beaufiul Valle del Lerma, where you'll see fascinating rocky landscapes in the background of the lush valley. You'll make a stop in Alemania, a former Spanish colonial city. There you'll be able to marvel in the scenery of colorful red sandstone mountains. Continuing on, you'll drive through Quebrada de las Conchas, another mountain, until you finally reach Cafayate. Your guide will take you to a winery where you'll taste Torrontes -- the typical wine produced there. You'll eat a typical lunch of empanadas, salteñas or locro. You'll also be able to buy some souvenirs and take pictures with locals. Afterward you'll meet back with the tour guide and head back to the hotel.

Hotel La Candelaria*

Breakfast
*or similar
Thinking about what to do next? We are pleased to offer several options to extend your stay in South America if you are not ready to head home. Either stay in Salta and book one of our optional activities or explore other destinations near Salta: a three-day trip in Mendoza, or visit San Pedro de Atacama in northern Chile.

Breakfast
2 nights in hotels with breakfast
Transfer from airport to hotel
Day trip to Cafayate with English speaking tour guide
Other meals and drinks (1x lunch, 2x dinner)
Tips and Gratuities
Prices are vaild until 31.10.2020.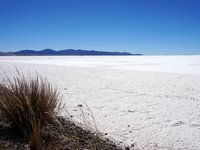 Get your start early in the morning and head up the Andes by minibus. During this day trip you'll get to see a wide range of natural sights, stopping through several villages along the way. You'll cross the tracks of the Tren de la Nubes, the route where goods between Argentina and Chile were transported. Next you'll see the stunning Salinas Grandes, one of the largest salt flats in the world. From there, travel up to 4170, where you'll stop at Purmamarca and marvel at the unique Cerro de los 7 Colores (The Hill of 7 Colors), which is sure to impress. Then, you'll head back to Salta.


Price on request
incl. Van shuttle (with other participants), lunch and English speaking tour guide
For a unique way to explore Salta, book our half-day horseback ride. You'll feel at home on the back of a horse in the land of the gauchos with hills, mountains, gorges, mountain streams and many picturesque corners. Many of these views can only be reached by horseback riding, so you'll experience something away from the norm. Feel closer to nature with this excursion through the Valle la Lerma.
Price on request
incl. half-day horse riding and English speaking tour guide
Get an adrenaline rush from rafting in the Rio Pasaje Juramento in the south of Salta. You'll be picked up at your hotel and taken to the Cabra Corral reservoir, where your rafting adventure will begin! For about two hours you'll navigate through the river course, passing through repeateded rapids. Before ending your excursion you can enjoy an optional lunch (not included) before heading back to Salta.
Price on request
incl. about 2 hours rafting (class 2 and 3), safety briefing and English speaking instructor