Indonesia Explorer - Group Tour
21 hightlights in 20 days: Bandung, Gunung Mas, Puncak pass, Cipana/Garut, Naga, Pangandaran, Wonosobo, Borobodur, Yogyakarta, Prambanan, Solo, Tawangmangu, Malang, Bromo, Kalibaru, Lovina, Brantan lake, Bedugul, Ubud, Sanur, Nusa Lembongan
19 nights in hotels with a 2-3* standard, including breakfast (in Cipanas breakfast not included)
English-speaking guide
many optional excursions for cultural activities or to nature
4-24 particpants on our group tours
from £ 1,233

Explore Indonesia and marvel at the many Hindu shrines and mosques, dormant volcanoes, tropical plants, and beautiful beaches that are part of this stunning trip. You'll also be touring bustling cities, rice fields, tobacco plantations, mountains, and valleys. On your journey you'll have plenty of opportunities to swim, relax, visit impressive temples, admire magnificent volcanoes, and even climb the imposing Mount Bromo.
---
Route of the group tour "Indonesia Explorer"
This stunning three-week tour of Indonesia will take you to the wonderful islands of Java, Bali and Lombok. You'll stroll through the streets of Bandung, Yogyakarta and Ubud, and find yourself enchanted amidst rice paddies, sugar cane fields, tea, tobacco and teak plantations, volcanoes, and jungles. Your Indonesia tour will end off with a few days spent relaxing on idyllic white-sandy beaches!

Below you'll find the day-by-day breakdown for our Indonesia Explorer tour.
These highlights are waiting for you on this tour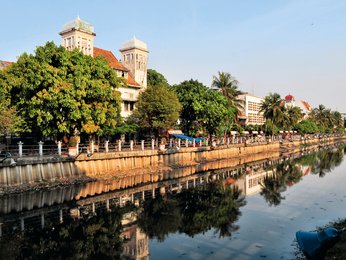 Powerhouse in the 13th century
Central market
Flower and bird market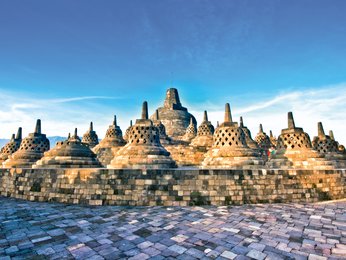 Biggest buddhist memorial
built around 800 a.C.
built like a mandala
---
19 nights in hotels with a 2-3* standard, incl. breakfast
(breakfast excluded in Cipanas)
All transfers as described
Entry fee Bromo
Excursions as described
English-speaking guide
International flights to/from Indonesia
Tips and gratuities
Optional excursions and entrance fees
Departure tax
Travel insurance
Transfer to/from airport
The accommodation is organized in double rooms. If you are travelling alone, you can share a room with another person of the same sex. If you wish to stay in a single room, please let us know on your inquiry.
The optional 3-day hike to the Rinjani volcano at Lombok is possible from April to November. You are hiking about 7-8 hours daily and sleep in tents. You will skip the nights in Senggigi and meet the rest of the group at Gili Islands.
For your arrival to Indonesia at the international airports Jakarta, Denpasar/Bali, Medan, Surabaya and Batam no visa is required. It's still possible that you get a Visa on arrival.
We recommend hepatitis A and B and rabies vaccination. For more information you can read our general travel information about Indonesia.
---
Dates and Prices for the group tour "Indonesia Explorer"
| Dates | Duration | Price pp in DBL | |
| --- | --- | --- | --- |
| 14.02.2020 - 04.03.2020 Solo Traveler Tour* (age 25-35) | 20 Days | £ 1,233 | Contact |
| 14.02.2020 - 04.03.2020 | 20 Days | £ 1,233 | Contact |
| 24.04.2020 - 13.05.2020 | 20 Days | £ 1,233 | Contact |
| 17.07.2020 - 05.08.2020 Solo Traveler Tour* (age 21-45) | 20 Days | £ 1,233 | Contact |
| 07.08.2020 - 26.08.2020 | 20 Days | £ 1,233 | Contact |
| 11.09.2020 - 30.09.2020 Solo Traveler Tour* (age 21-45) | 20 Days | £ 1,233 | Contact |
| 09.10.2020 - 28.10.2020 Solo Traveler Tour* (age 40-65) | 20 Days | £ 1,233 | Contact |
| 09.10.2020 - 28.10.2020 | 20 Days | £ 1,233 | Contact |
| 13.11.2020 - 02.12.2020 | 20 Days | £ 1,233 | Contact |
| 13.11.2020 - 02.12.2020 Solo Traveler Tour* (age 25-35) | 20 Days | £ 1,233 | Contact |
| 18.12.2020 - 06.01.2021 | 20 Days | £ 1,233 | Contact |
Single-room supplement: £431 per person
*here you can find more information about Solo Traveler Tours and Festival Tours