What to expect...
Mendoza - the city of sun and good wine - is a place where you're sure to feel at home. Its downtown boasts large parks and broad avenues and it has become famous worldwide for its high quality of wines. Be sure to try the Malbec here for to experience it at its optimal standards. Of course, a visit to a winery is an integral part of your stay in Mendoza. In the warmer seasons, the mountainous landscape green with vineyards offer acitivities such as cycling and horse riding. In the Argentine Winter (June to August) Mendoza offers a very different pleasure: a popular ski resort at the slopes of the Andes.
Today you'll arrive to Mendoza by bus or by plane. You'll experience immediately the warmth and open-armed atmosphere. After arriving at your hotel, we suggest asking for a map at reception and strolling through the town. Some of our recommendations include walking on the Paseo Sarmiento, stopping in the pedestrian area for a glass of Malbec, the Monument of San Martin and Avenida Aristides for a nice Argentine meal.

Hotel Mendoza*
*or similar
After breakfast, you'll head to the lobby to meet your driver. Today you'll get to experience Argentina's wine culture. Through the 20-minute drive toward the Andes, you'll get an incredible view of fields of sunflowers at the foothills of the Andes, with Mount Aconcagua - the highest mountain in South America - on display. Equilly impressive are the endless vineyards in view. Luján de Cuyo consists of many traditionally-run wineries, many which have expanded to restaurants or hotels with accompanying wine cellars. On our tour of Luján de Cuyo we will visit three different wineries, where you can witness the production of wines first-hand. Of course, no wine tour is complete without wine tasting! You will be invited throughout to sample the various wines at the three wineries. At the last winery, you can even enjoy an Andean lunch at their onsite restaurant with scenic views (lunch not included). In the afternoon you will be transferred back to your hotel in Mendoza, where you are free for the evening.

Hotel Mendoza*

Breakfast
*or similar
Wanting to continue your journey before heading home? We are happy to arrange for you to travel, for example, to Santiago de Chile, Buenos Aires or Bariloche in northern Patagonia. You can also spend a few more days in Mendoza, doing one of our optional offers. Of course, should you wish to go home, we will happily book a transfer to the airport for you. Regardless, we wish you a pleasant journey.

Breakfast
2 nights in a hotel including breakfast
Transfer to hotel
half-day excursion to wineries with English-speaking guide
Other meals and drinks (1 lunch, 2 dinners)
Tips and Gratuities
Prices are vaild until 31.10.2020.
You'll begin with a transfer from your accommodation to Charcas de Coria (about 25 minutes away) where your bike tour will begin. The tour leads you through wide open spaces, countless vineyards and century-old trees, all with the Andes in view. You'll have your first stop at the Bodega Vistalba vineyard, where you'll learn about the process of local wine, and have a sample. After, you'll make a second stop at another vineyard, the Bodega Nieto, located only a few kilometers further. Here you'll enjoy an extensive lunch and red wine. In the afternoon you'll start the return jouney to your hotel.
Price on request
incl. English speaking guide, helmet, bottled water, lunch with different wines
Duration: about 5 hours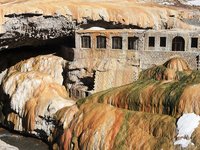 The Andes are the third highest mountain range in the world. Because its highest peaks are located in Mendoza, we recommend a day trip to Alta Montaña. Hike along historic trails and discover the most important places and history of Argentina, from the struggle for independence to present day, including Potrerillos, Picheuta, Penitentes, Uspallata and Puente del Inca. Marvel at the impressive rock formations, welcoming ski resorts and the Aconcagua, king among Andean peaks who is 6962 meters above sea level.
Price on request
incl. English speaking guide
Duration: about 12 hours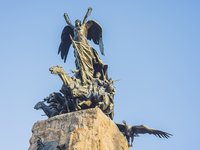 If you want to know more about Mendoza, its inhabitants and history, enjoy this local, English-speaking guide on a half-day tour of discovery through the city streets. On this journey, you'll pass the city's attractions, such as the ruins of the Basilica of San Francisco, Independence Square, the Parque General San Martín and the hill called Cerro de la Gloria with the monument in honor of the Andean Army. Become part of the urban center of the province of Mendoza, a region beyond the borders known wine culture that probably would have remained a desert without human intervention.
Price on request
incl. English speaking guide
Duration: 4.5 hours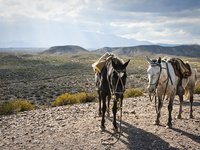 Experience Mendoza on the back of a horse! Embark on a unique half-day trip and ride amidst the countless vineyards of Mendoza region, with the Andean mountain range, Cordón del Plata, as a picturesque backdrop. At lunchtime, you'll even enjoy a rest and even participate for refreshing lunch in a wine tasting.


Price on request
incl. Lunch, visit a winery & tasting
Duration: about 5 hours